LEG 6
(6) Costa Rica to Acapulco – Nov 23rd to Dec 3rd
Before I get into leg details, I have an important announcement to make.  I FOUND A SLOTH!!!  A LOT OF SLOTHS!!!  Hanging from trees!  Crawling on the ground!  Eating stuff!  And smiling!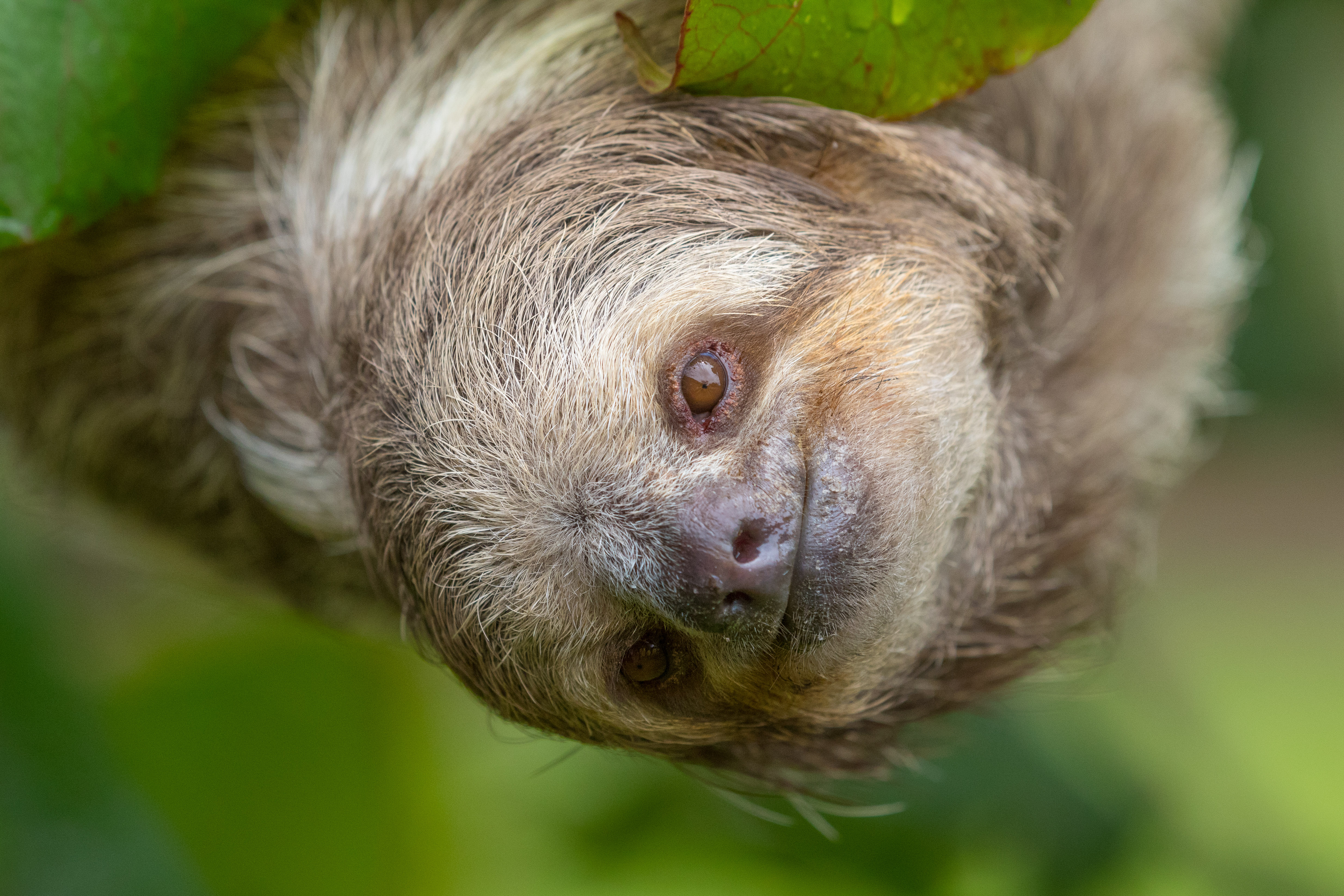 On the layover in San Jose, Dave and I visited the "Toucan Ranch". (we saw Toucans too)  I have decided that sloths are my friends.  If you have never seen a  sloth in real life, put it on the bucket list.
Pete and Elaina were waiting at the dock on Thursday, and had the boat in tip top shape!!  BIG THANKS PnE!  After the departure paper work cha-cha, the crew did Thanksgiving at the bar.
6am the next day, we departed Golfito.  Golfito is a must do for any sailor, and someday Reliant will be back.  The town is chill, the people are great, plenty of anchoring space in the harbor, and very well sheltered.  No bugs either!
We anchored briefly off Isla de Cano as we departed the Costa Rican coast. Archeologists say the island was used by pre-Mayan Indians for burials and rituals. Didn't find signs of Indians, but we found an army of ants carrying leaves from 100s of yards away, through a rain forest full of leaves, to a tree surrounded by and filled with…wait for it… LEAVES.  Still haven't figured that one out.
Also, I MADE MY FIRST HAM RADIO CONTACT!  Was able to reach Gordon West in California with the SSB, 2500 miles away!  To all previous crew I say, the many hours of annoying static paid off!
Coming up the coast from Costa Rica was a breeze.  Very light Papagayo winds, and light north swell all the way to Mexico.  With the exception of the Tehantepec Gulf, and a few dodged rain storms, the weather was smooth.
Later in the trip, I caused a minor emergency by contacting the Coast Guard on SSB.  Apparently they copied vessel name and station ID, but didn't hear "non-emergency traffic".   They called us on sat phone(by tying the station ID to the sat phone account) and cancelled the alert to the Nicaraguan Navy.  Overnight a bulk carrier hailed us on VHF to let us know the Coast Guard was looking for us.
Moral of the story is, don't play with the SSB!  🙂
Somewhere off the cost of El Savador, we caught our first Mahi mahi and landed him… by landing I mean got the fish on deck… without a gaff… or a net…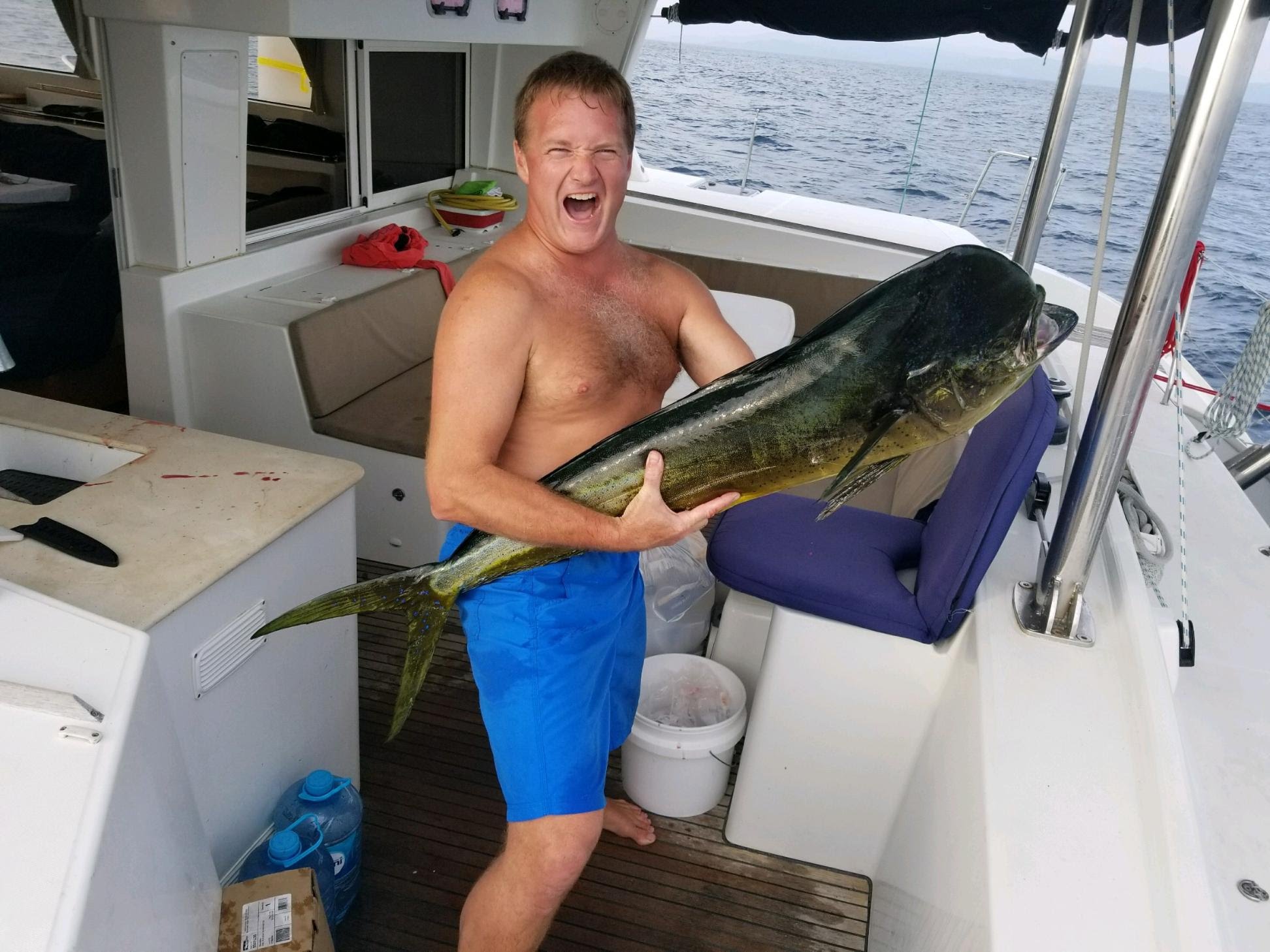 Without a gaff, he slid right back off the port transom, but we fixed that problem when we got to port in Guatemala as you can see above, and I'll leave the rest of the story to the video below.
Before reaching Guatemala, we once again experienced the Leg 4 intermittent issue where one engine or the other would max out around 2100 rpms.  The engines otherwise ran fine, and the problem went away after a shutdown and cool off.
For those interested in the "mystery rev limit", read here at 1MC: https://svreliant.org/2018/01/04/when-a-yanmar-diesel-randomly-rev-limits/  For everyone else, it's fixed.
Puerto Quetzal, Guatemala was our stop on Monday.  Really cool, but pretty remote! First, it's the only port on the Pacific coast of Guatemala.  Reliant docked 100 yards from the Guatemalan Navy base(the ONLY Guatemalan Navy base), and one of Dave's families LPG carriers.(seriously, his family owns some big ships)
Quetzal's private docks total about 30 small craft, with one decent bar/restaurant. Cold cerveza is obtainable!  Otherwise the entire port is a commercial harbor, with no supply house in sight.  In Guatemala, you have to drive to Guatemala City to get anything.
Day one in port: the crew relaxed while my new Guatemalan buddy Rosendo and I drove up to "ciudad" to pickup new filter assemblies to replace the junk Lagoon installed.  Believe it or not, there is a Parker Industries Distribution Center in Guatemala City.  They had two good old reliable Racor 500fg's in stock!  Fuel filter problem solved forever.  🙂
Day two: the crew got a hiking trip in at the Volcan Pacya thanks to my friend Evelyn and her Guatemalan cousin.  THANKS EVELYN!  We didn't see actual lava flowing, but you could still feel the heat from underneath the lava field, and we watched a mini-eruption.  I think it's reasonable to say the guide who kept Dave from hiking to the top saved Dave's life!
Continuing on from Guatemala we finally landed the big Mahi mahi, along with a few Black Fin Tuna.  Gaff was critical.  Ballyhoo and tackle resupply also helped.  The first official "fresh fish fest" was had, and we put enough fish in the freezer for the rest of the trip to CA.  Pete did the fillets.  Sushi and Dave's tuna lettuce wraps were the highlights!
The Tehantepec Gulf was next, and it is seriously no joke.  It was a moderate Tehantepec week, and I cut us in too deep off shore before we got slammed by the winds.  Blowing like crazy, the seas built up fast, and we got banged up before I tucked us back under the lee of the shore line. From there on around, we passed 100 miles of pristine white sand beach in flat water, while the winds blew 30 kts overhead.
Another return destination for Reliant.
Reliant made Acapulco, Mexico on Saturday.  I would judge Acapulco as one of the finest natural harbors to be found.  It is surrounded by high hills on all sides, and has few shoals or obstructions.  You enter through a large bay from the south, and turn west bound to tuck inside the hills.  Night life is non-stop, but docks and anchorage on the southern side of the harbor are quiet.
My overall impression of Acapulco as a crusing destination was that it's ok. They say that the drug war scared off most tourists.  To us, it seemed safe for a big town.  Like Cancun, it's more about the big tourist resorts than anything else.  Works for some people.  We spent our last day exploring the shoreline by dingy, and had a nice meal in town.
Ships report is good.  The four 55 Gallon drums worked well, and only minor issues with cabin LED fixtures and other wear items.  New props holding(replaced the starboard zinc with proper hardware and re-tightened before Golfito departure).  Same issues with lighting struck equipment, but working around it all.  The dude abides…
Reliant is safely end tied at Santa Lucia Marina, Acapulco.
Leg 6 COMPLETE