LEG 8
(8) The Baja Bash! – COMPLETE
Reliant has reached Ensenada, the drop point for boats shipped from Florida to California. Distance from the border is 48 nautical miles.  I call that mission accomplished!
To begin, I'd like to remind everyone how arduous the so called delivery experts said a northbound passage on the Baja coast would be in the spring time.  I've included the following picture to demonstrate the ordeal(note the ferocity of the seas in the background)…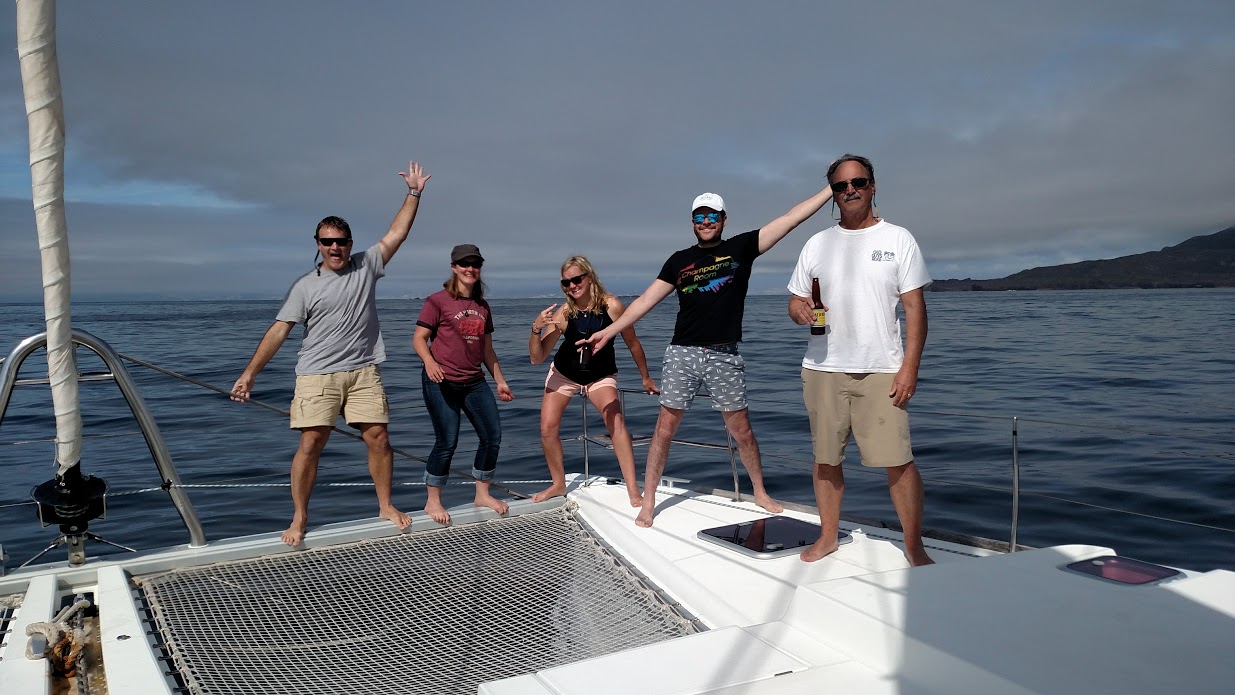 …and that's an emergency flotation device in Tim's hand, not a bottle of Pacifico…
To every delivery captain that says NO to northbound baja deliveries after January, TRY CHECKING THE WEATHER dude, it helps!
Did we get lucky?  Maybe, but out of a 10 day window in March, there were enough easy days to piece together an uneventful motor north.(it's all about the Lows, watch for them coming in off the open Pacific to break up the NW flow)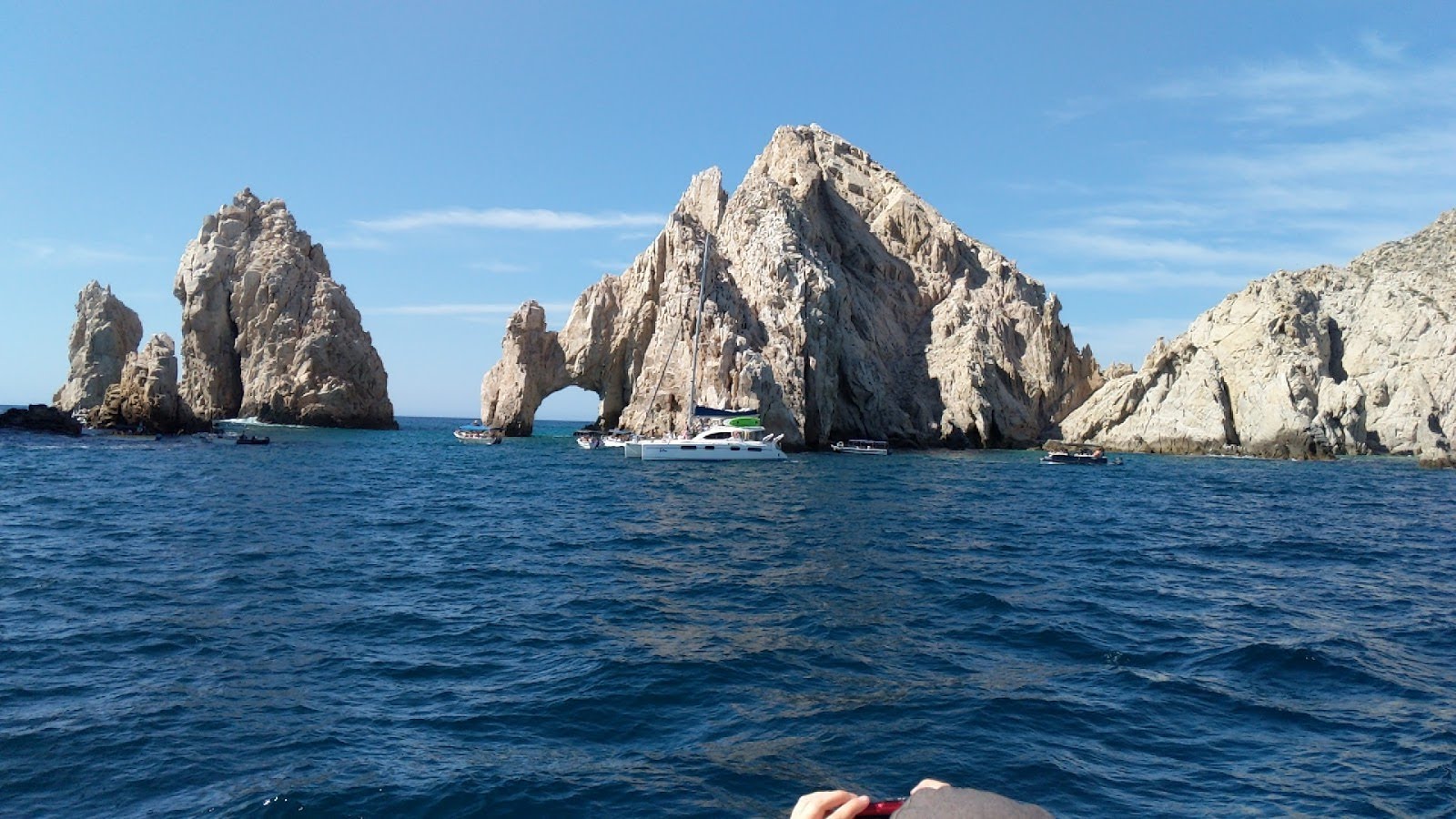 Starting early Sunday, we checked the famous Cabo arch, then made a 30 hour run direct to Magdalena Bay.
We anchored in Santa Maria Bay, on the northwest side of Magdalena, an easy in and out.  Unless you are fuel critical, Maria is a better rest stop than Mag.
There we made a great trade with local fisherman: Spam and Oreos for Lobster! Monday night, Reliant hosted Lobster dinner for the only other boat in the bay, a southbounder out of San Francisco.
Tuesday morning we continued north, tucking close to shore inside of Punta Abreojos. (cruiser note: there's a light counter current if you get near shore, especially before Abreojos, good northbound push for a slow boat)  We passed several groups of Gray Whales traveling northbound near San Ignacio.  We also made VHF contact with boats southbound on the San Diego to PV race.
Wednesday we reached Bahia Asuncion, and spent all day ashore so Hannah could say she'd been to "real" Mexico.  Dinner was at Loncheria Mary, a three table establishment which was pretty "real" Mexican and the only open joint in town. Highly recommended!
Having plenty of fuel on board made stopping in Turtle Bay unnecessary, and with good weather potential developing for a north bound sail over the weekend, we decided to make for the San Benitos on Thursday morning.
The Islas San Benito are a group of three volcanic rock islands, barren and uninhabited, except for a small fishing camp on the middle island.  They
give shelter from prevailing NW weather, and are a great jump off point for the last part of the passage north. (cruiser note: try this instead of Cedros unless you need fuel, better point of sail to Ensenada)
The weak low pressure center promising a reverse in wind direction by Saturday, stalled about 200 miles off shore.  If it had moved further in as predicted, we would have enjoyed a 10 knot breeze south to north on Sunday.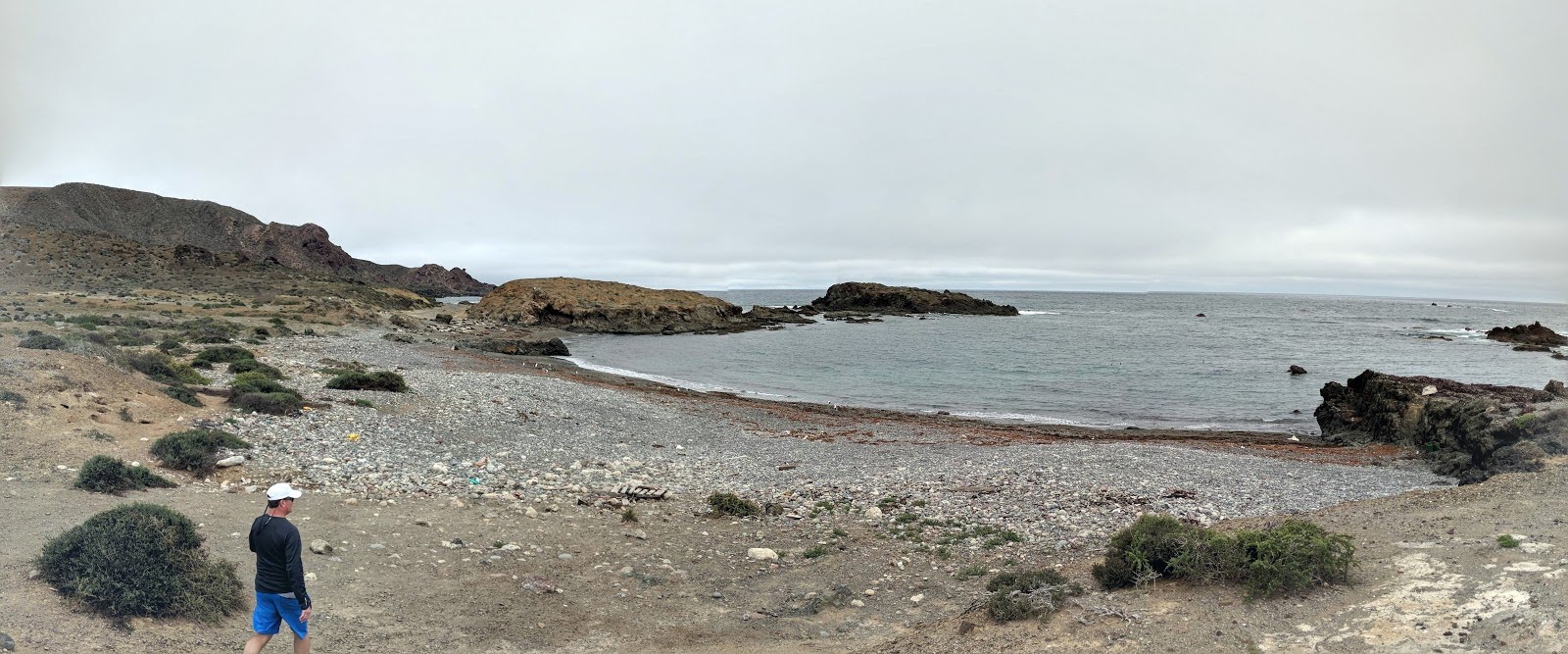 Realizing there would be no good sailing, we shoved off on the final leg for Ensenada on Saturday afternoon.
Arriving Ensenada Sunday, we spent one very crowded night at the Hotel Coral Marina. The crew used Margaritas to distract me from the noisy power transformer next to our slip.  I mean really, it's the 21st century, do power transformers need to make that much noise??!!
I strongly recommend against Coral.  It's not a terrible marina, but the docks and facilities aren't nice enough to make up for not being able to walk to town. Plus it costs more.
Cruiseport has much nicer concrete docks, 50 amp service on all, plenty of room in the ways and double wides, and is right across the street from the nicest part of centro.  You pick up soot from commercial and cruise ships, but it's no dirtier than Marina Del Rey, and just as quiet as Coral.  The intel I received on these places was incorrect.  Do Cruiseport, you won't be sorry. (cruiser note: CP is dirty, and your rigging will be coated with a gritty stuff if you stay more than a month, but if you won't be there long it's not a factor)
Back to the trip, we spent Sunday and Monday enjoying Ensenada and Tuesday departed for Estado Unidos by bus, foot, and rental car.
The crew requested I detail why we had to cross the border on foot instead of flying back with pilot buddies.
We had a plan for evac by Cessna with the help of Dave Karlsberg and Eric Roth(thanks for trying guys), because there is no commercial service in Ensenada. We just forgot to tell President Trump.
Mr. Trump decided to inspect his future wall the day we were planning to fly out. Since the secret service shuts down the National Airspace surrounding any VIP movement, because Cessna Skyhawks are so dangerous(do I sound bitter?), we had to hitch a ride to the bus station, bus ride from Ensenada to the border, walk across the border, Uber to Budget Rental, and drive back to LA.
I've been waiting for a tweet apology, but no shout out. Guess he isn't plugged into the adventures of Reliant.  You're Fired!
Getting back to the crew, it is amazing to hand your credit card to a guy at the Budget Rental counter, and in 5 minutes drive off in a brand new car full of gas for destination wherever.  Only in America.  Also, kind of nice when the guy at the border crossing says welcome home.  Still the best place to be.
I guess that's as good a way as any to end the blog.  I've missed a detail or two, but I've covered the highlights.
Reliant is now resting at Cruiseport, Ensenada, Echo 3.  Weekend trips are approved.  All former crew, you know where the key is.
Final Leg and grand trip complete!
Reliant actual, out.